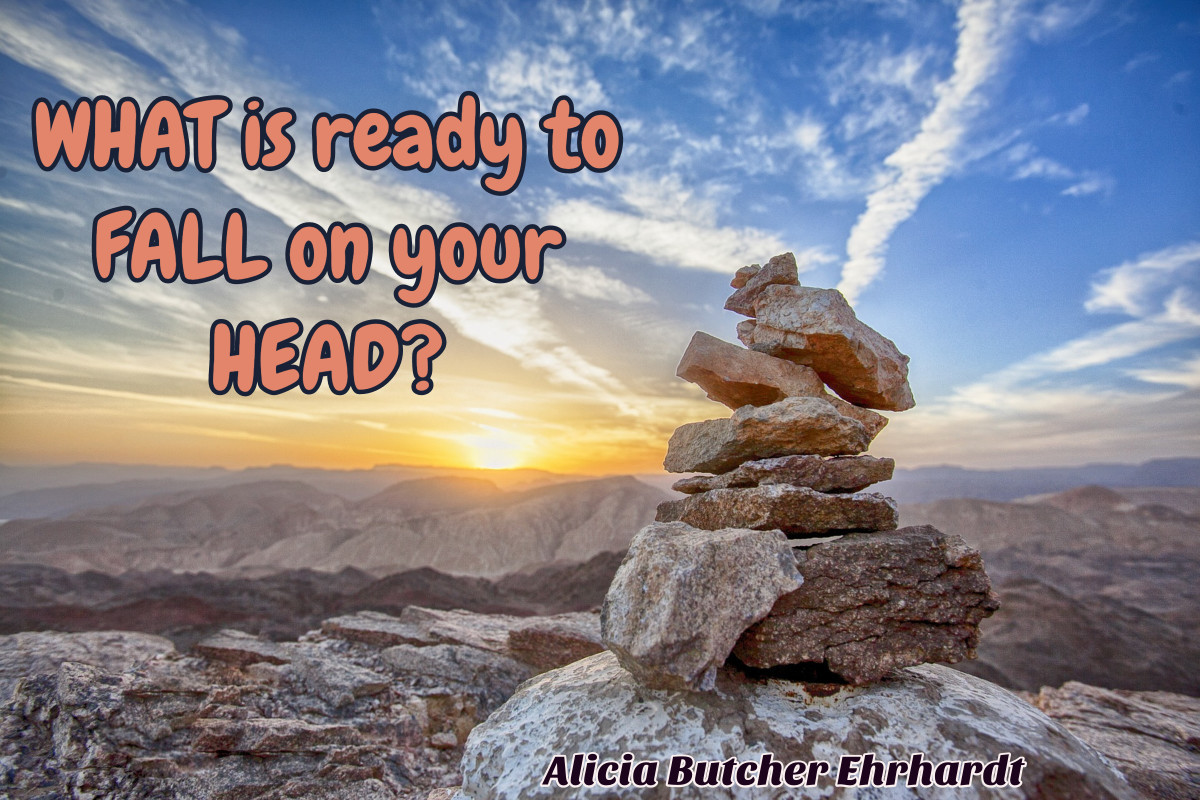 UNSTABLE ROCKS WILL CRUSH YOU
There are too many things going on in my life, and all of them critical.
But the thing that is making it hard to write right now is one I hadn't expected: I can't remember quite how I felt BS (BEFORE STENTS), when I ONLY had CFS.
And by 'feel' in this instance I mean sensations in the BODY.
What sensations am I having that are worrisome?
I'm writing about these because they are both common and keep happening.
I'm doing far more exercise (even in my pitiful little amounts) that I was doing before. Part of it has involved a rowing motion with my arms against a resistance, which uses the chest muscles (pectorals) in an unaccustomed way.
So it isn't really surprising that these muscles have a spot or two where there is sensation. By which I DON'T necessarily mean pain. Just a tightness that is in the muscle, in places which vary but are repeatable. Over and above the left breast. Outer, center, inner – is what I call them. Once of them seems to be relieved by burping. There are one or two similar spots on the right side – but the right side is dominant, and the muscles may be more used to being used. So, less noticeable?
Are those spots connected to the stents? Or are they simply the same spots on the same muscles – because that doesn't change. Are they INSIDE the ribcage? Or outside, in the overlying muscles. It's hard to tell.
There is a slight shortness of breath – when I climb a bunch of steps in a row. Or walk a longer distance than usual unsupported, such as when I walk from the house to the car. Or walk across the lawn to the mailbox and back. The heart rate can go up noticeably – until I sit down and let myself relax. I should expect SOMETHING when I do that – when is it too much?
There are muscles in my upper arms which get a bit weird – sometimes one will make it impossible to sleep because it waits about 6 seconds, and gives me an electric shock – for very long times, until I get up and do some range of motion exercises and some stretches and maybe eat something, and sometimes take ibuprofen (I'm trying to minimize NSAIDs, so I resist).
The question: are these significant?
All of these things could be symptoms. Of clogging arteries. Of something about to happen again. Of something not quite right.
But the thing is that they are not up to the level of being 'reportable' – or, heaven forbid, calling the doctor about on a weekend, or going to the ER.
I feel I'm on permanent 'symptom watch.' I'm waiting for the symptoms to get worse before doing something, in the same way I should have done something when the shortness of breath happened BS.
They used to drive me crazy in the hospital asking me to rate my pain. For someone who lives with a fair level of constant other pain, it is difficult to choose the higher numbers on the scale, and I'm aware of both minimizing and exaggerating as possibilities.
So, not being able to say 'this is significant,' and instead being in 'wait and watch' mode continuously is stressful. And stress is bad.
It would help if I could remember which of these were life BS
Standing has been a problem for years, and causes pain. So is my exercise making that worse? Or is something more nefarious going on?
If I walked with the walker BS, I often had pain the next day – I'm supporting part of my body weight with those chest muscles and arms on the walker.
I did as much exercise as I could do prudently before – including a lot of isometrics, which involve clenching a muscle and holding it. I know there were times when I did more than usual, and really noticed it.
And I used to ride the bike, too. The next day I usually felt it.
But I had no reason before to make an accurate record of pains and locations – my modus operandi has always been to ignore most of this stuff as much as possible so as not to waste energy on what I couldn't change anyway.
PTS anyone? Post-traumatic stress?
It's one of the major symptoms, being hyperalert, and wondering and worrying about things which may or may not be triggers.
Always being on alert is more than exhausting.
Wondering exactly where on the continuum you're supposed to do something wears you down. That and wondering if it's new/real/important. Or ignorable.
So I'm sharing with my blog, and hoping that noticing and documenting feeling physical and mental is enough to disarm them – and that the PTS is slowly going away as I do so.
I really don't want to have to find someone and take the energy to explain all this stuff to.
Thanks for listening, if you got this far. Share if it resonates.