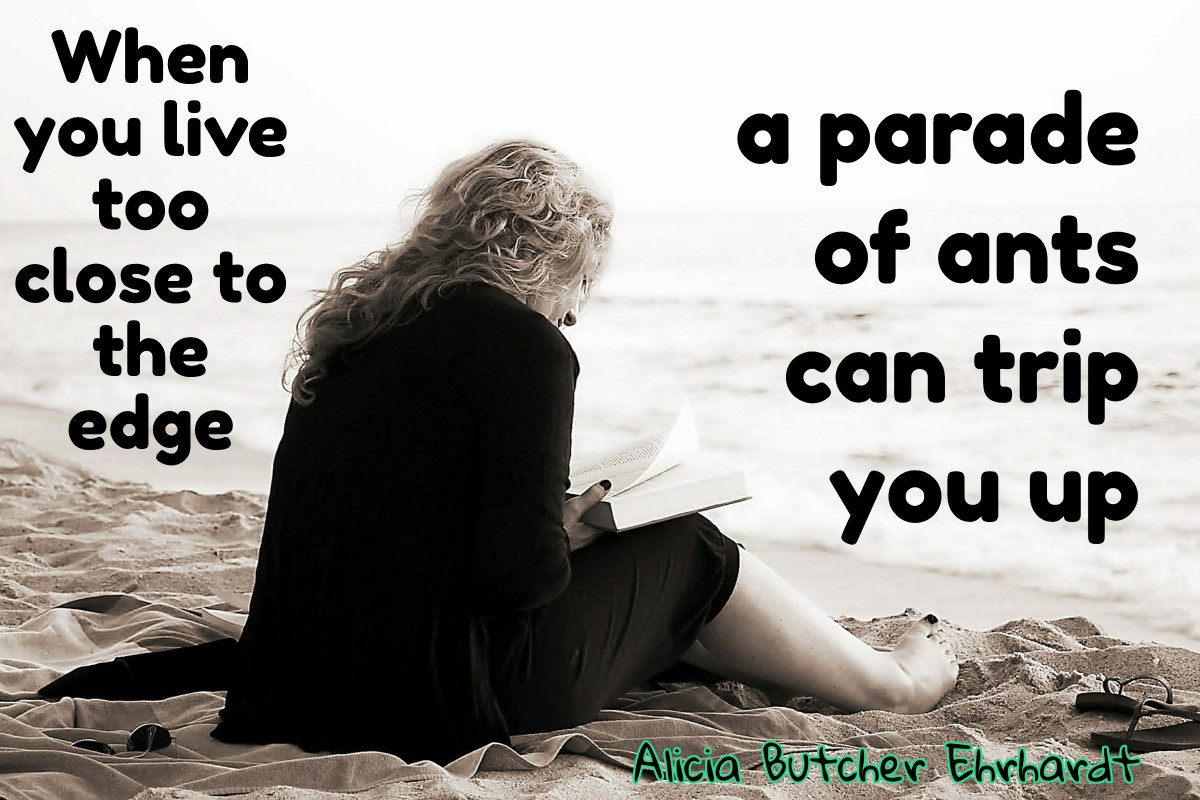 FEELING FOOLISH IS NO EXCUSE FOR TAKING RISKS
This may be a bit incoherent. I've had a rough week again.
As you grow older, there is an interesting concept of trying to identify when you do something for the last time, and whether that last doing is bittersweet. I have weeded possibly for the last time, because the personal cost was too high.
As someone who has so little functionality, these events have been coming at an accelerated rate.
I fight back. Try to continue doing things. Try to pick them up again when I haven't been able to do them for a while.
During the spring, I weeded when my assistant was weeding, both to show her what was a weed (she'd never had a garden), and to do a bit of work that I used to love on my own garden. Several times I overdid it, and was stiff and sore for several days after.
Does weeding cause chest pain?
On Monday, with my brand new WORKING heart rate monitor, I did exercises up to the limits, which I hadn't dared to do with an erratic old monitor.
On Tuesday, I spent maybe an hour outside, lying on a boogie board, pulling weeds, while husband and assistant pruned bushes. It was doable. I'm so proud of my ability to sit on the ground, and get up and down, that I overdo it. And it was nice to be out of the house. And not TOO warm, I thought.
On Wednesday afternoon of this week I asked myself:
Today's contretemps was that I did exercise to a higher level (new HR monitor – this one actually works and displays continuously) on Monday, and weeding on Tuesday, and last night felt very odd, and have had the shakes, and a high BP, and a lot of (most probably muscular) pain, including in the chest area – because I was foolish enough to do my weeding while sitting/lying on a mat on the ground.

That may have been my last weeding, ever. Sigh. I love tending the garden, but I can't afford the after effects.

Or it could be more of the other – and I'm fervently hoping it is not.

I may have to see someone and talk it all out – the hospital and stuff came back very vividly during this 'episode' – that's what PTSD does.
I don't mind the fuss IF there's something wrong that needs caring for, but I really don't want to go through it again unless strictly necessary, and I can't tell. So the anxiety level is higher than I'd like, and I kept husband home from this morning's bike ride with friends – and then spent the whole time asleep, because I didn't get a good night's sleep.
The perfect storm: adding small effects to get a scary one
Wednesday night, after a bunch of stuff, we went to the hospital.
Because the BP was increasing all evening. When it hits 200+/100+ I get nervous.
Because I felt unwell – shakes and chills (part of my normal temperature control problems, but were they at a higher level?).
Because I was out of it – not myself – not thinking clearly.
Because the stiffness across the front of the chest would not go away or yield to stretching. Not so much pain as incredible tightness.
Because, when I was weeding, it was much hotter out than it had been. I had a can of soda when I came in, but that's all.
Because, apparently, I stopped drinking water, with the absurd idea that if they needed to do a test, not having water in my stomach would mean they could do it the same day instead of making me stay overnight (like last time).
You go to the hospital if you're really worried it's serious.
I should have known, when we went at 9PM, that something was wrong because I needed to use the bathroom as they were taking me to a room (after an 'abnormal' EKG) but nothing happened.
Of course, they don't let you have water in the ER – and once you're there, you do as they want you to do. So, as the time passed, I got more and more dehydrated.
I should have known when they said the veins on the back of my hands were standing out very well, and would be easy to draw blood from. But none of my veins, usually so cooperative, were easy Wednesday night.
When they gave me some water a bit later, I was able to produce a sample – but didn't do a very good job of it.
I have learned this year to advocate for myself better
They came to tell me that they were admitting me. The older you get, the more risk factors you accumulate, and they want to be careful.
But they also told me both blood and urine showed that I had a massive infection, and they rolled in an IV bag of an antibiotic I'd never heard of.
I stopped them. I asked, since I had no UTI symptoms, whether it wouldn't be better to wait until we were sure, and how long I would be okay postponing an antibiotic if I needed it, and they were willing to wait until after tests the next morning when I explained that I overreact to drugs and was worried about side effects. The nurse said the main one was diarrhea – but they could give me a probiotic for that. And seemed taken aback when I said that would be TWO new drugs for me, and I would rather wait until after the test. She said, "But it's just a probiotic." I explained they've made me sick before.
So I spent the predictable night in the hospital, disturbed every time I started getting some sleep, with a roommate who had a sister – they talked softly most of the night, but at least I was on a heart monitor, and someone was aware and available.
I asked how to stop the bed from automatically changing its setting every time I got slightly comfortable. I was told the only way was to unplug it – and lose all capability of adjusting it at all. I unplugged it. Horrible lumpy thing either way.
Once I realized I was dehydrated, I poured glass after glass of ice water down my throat. Made for a busy night, but it scared me that I could let myself get so dry and not even have an idea it was happening.
Vitals and blood tests through the night gave them data. The morning BP was normal!
I got the nurse to order another urine test, and made darn sure it was a clean sample. When they finally sent the results back, the evidence of bacterial infection was minimal. In this light, the extra white blood cells in my blood – the same on sequential tests – was labeled 'mild' and, since it was not increasing, deemed not worrisome.
So I let them keep their antibiotic, after worrying all night about having delayed the START of the antibiotic if I actually needed it.
My new favorite cardiologist
At half past ten, the cardiologist (another new one from the same practice) came to talk to me. He said the EKG was abnormal – but the same abnormal as my EKGs have been since the stents, so nothing to worry about. He said the monitoring all night long didn't show any problems. He said the sequential tests for cardiac enzymes in the blood was negative after two tests, and that should be enough, given no other symptoms.
We discussed indications for coming to the hospital – and I got reassured that while high BP is bad, it takes days before it can do any major damage unless it stays very high continuously, and mine wasn't in that region.
We discussed all the factors that made me go in – and basically concluded it was a perfect storm. He told me I was right to have come in.
I got bold – that advocacy I'm talking about – and handed him a copy of the paper on my family of stents which concludes that a month or two is as good as 12-18 months of antiplatelet drugs. He shrugged and said guidelines take a long time to catch up to research! I told him it seemed to bother my own doctor to be queried on these details – he thought my doctor must have had an off day.
I asked him if he knew my history – and he recited it back to me, correctly!
And he released me!
Subject to the rest of protocol, of course.
Which took until 4 PM.
An unexpected test – and refusing meds
When someone came in to do an echocardiogram, I asked who had ordered it and why it had been ordered, since the cardiologist had said I was free, not 'free subject to X.' The tech took her machine with her, and went to check it out as I did not recognize any of the names on the paperwork.
She never came back, and my nurse said it was some kind of mistake when she came to tell me she would be doing the paperwork. My nurse seemed annoyed about it, too.
I refused all the medicines the hospital had prepared for me: my own meds, but supplied by the hospital pharmacy, would be charged at huge rates. I stopped the whole procedure by telling the nurse I had already swallowed the morning ones (I had – forestalls arguments), and that the others I would take at home at the regular time with my dinner.
This also prevented the whole foofarah which would have arisen because my pain specialist has authorized brand name Celebrex because I tried four generics a year ago when they came out – and only one worked. Pharmacies that operate on bulk go by the lowest bidder, and cannot guarantee a manufacturer for generics.
I sympathize with hospitals trying to make their money in the current climate, but it is no reason to cooperate with unnecessary – and potentially damaging – things to me.
I'm fine – what did I learn?
I spent Thursday evening vegged out, Friday as a very slow recovery from all the assaults on everything (I joke I made my quota of people for the month in the first two hours in the ER – it is SO hard for me to cope with new people, new situations, noises, and bright lights). And Saturday I seem relatively okay, if slow.
I haven't done any exercise yet. Possibly will do a shortened version of the cardiac rehab tomorrow or Monday, and ease back in.
And I have some new benchmarks. I know more kinds of chest pain that are just muscular. One doctor told me that if I could find the exact place where the muscle hurt, it was probably muscular, whereas if it seemed behind rather than in the muscle, to worry. A bit vague, but helpful. I know it's only sustained high BP which puts me at risk for stroke. I was told only to take my BP in the mornings if asymptomatic. Duh.
I made the right call. After all the prior stuff – and the addition of all the above into SOMETHING, I didn't have the right to put my husband through the stress. I even sent him home from the ER when they told me I'd be staying.
I managed to pack most of what I would need, quickly, in a small bag. Ate something with protein (I hadn't been hungry all day), grabbed some Atkins low carb bars. (One ended up being dinner.)
Next time I will take salt and potassium in my own baggies, because food services and nurses simply do not believe me when I tell them I need to take a lot of both to keep my blood volume up, and by the time I see a doctor, it isn't high on my priority list, and it is actually dangerous for me NOT to have them. The food they offered me was disgusting; I choked it down for the protein.
It took several days of my life away from me, put me through another bunch of stuff, and has left me behinder.
I hope there isn't a 'next time.'
Don't take stupid chances.
Have you had similar 'learning experiences?'
---
Thanks to Stencil for the image and ability to add words.