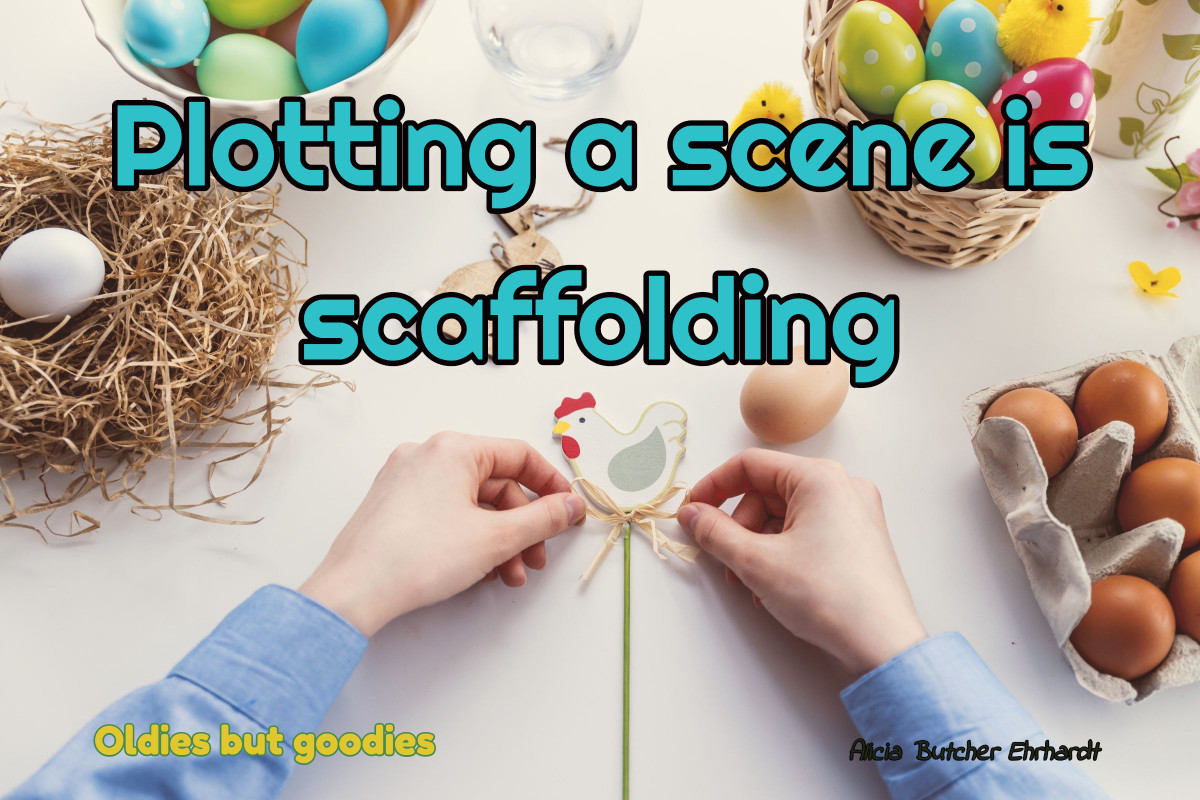 WARNING: FOR PLOTTERS
I have no idea how pantsers (those who write 'by the seat of their pants') decide what goes where in their books, or scenes, so if you're a writer of that persuasion this post isn't for you!
Even plotters have many variants
Some plotters are outliners: they construct a detailed outline for their novels, listing events in each scene, and, when they have a clear enough picture, follow their characters along and write down how they talk to each other as the events unfold.
There are writers who plot part of the time, as necessary, when they get stuck or when a section has to have a chronology to make sense.
And then there are people like me (I hope I'm not unique!): decisions are made in advance for every little thing that could happen in the whole story – an interaction between two characters about their Motivation; the introduction of a theme; the next step in a plot sequence that spans the whole trilogy…
I don't know if I would have been this controlled had my brain still functioned the normal way – I didn't write novels 'before.' But it helps me function when the amount of work I can keep in my head at a time is about one scene's worth. At times, one beat – a section of a scene. My problem when I don't do this it that the same 'good idea' will end up, in slightly different words, in more than one place in the novel!
So, necessity or temperament:
I call us Extreme Plotters
All this goes into the scenes in the list. Each scene has its little laundry list.
And then the improvisation can begin – everything is ready but the words.
And that little bit of 'business' will occur in only one place in the novel – and I know where and why.
---
From January 2013 (but I still use it every writing session):
Appreciations: Stuff that has to go somewhere
There are marks that a story has to hit to be considered complete.
For example, Blake Snyder, in his Save the Cat series on screenwriting, lists what he calls beats (on his 'beat sheet'), things such as Opening Image, Theme Stated, Catalyst, and Dark Night of the Soul.
James N. Frey, in The Key: How to write damn good fiction using the power of myth, has a similar set which he calls a stepsheet that includes marks to hit such as the Call to Adventure, the Confrontation with the Evil One, or Obtaining the Prize; and a set of mythological characters to encounter such as The Armorer, The Evil One's Sidekick, or the God with Clay Feet.
Other theorists have their own sets of points to hit for a novel or screenplay, and other structural systems such as Dramatica have their own collections of 'pieces' to include somehow in the finished product.
Finding a home for the pieces in the list of scenes
The last part of my Scene template is the section where all these systems have space to assign their points to particular scenes. I call these appreciations, or apps, from the original Dramatica version terminology.
Many of these systems have points in common, and are different ways of interpreting features that stories need. Odds are that people evaluating a novel or screenplay for acquisition will have their favorite system- and there is no reason why different systems can't be accommodated within the same story and story structure.
The appreciations remind me that somewhere within THIS scene, I have elected to show, say, my protagonist preparing for the quest ahead by consulting The Wise Woman, or that this scene is the place to illustrate what Snyder calls the 'All is Lost' moment.
The illustration ('encoding') of the appreciation could be a bit of description or setting, a phone call and one or both sides of the ensuing dialogue, or a character's thought expressing the theme for the reader. My choice – and where the writing and the artistry happen.
There are an infinite number of ways to illustrate any appreciation.
When done, a list of the appreciations showing the required points, scene by scene, could show an editor or studio exec that the story follows his favorite system* – and 'validate' the story's structure. The point is that if the story needs to have a 'consultation with a Wise Woman' in it, I need to know which scene I've chosen to put that into. When I'm writing/I've written the scene, I can check the beat/story point/mark off my list once it is illustrated somehow. It is bookkeeping – that's what templates are useful for.
The remaining few lines at the beginning and end of the Scene template situate that scene within its Chapter, and keep track of the action on a larger scale.
It looks like a lot of work to create and maintain this much structure. I think of it as preparation before going into battle. I know that when I reach the end, each of my scenes has done its job, and I haven't left things out.
And it frees me up to do what I really want, which is to write the scenes: the stage is set, the actors are costumed and ready, and we get to Action!
—
*This is not an original idea – that you somehow include different 'systems' into the same book or screenplay – but I can't remember where I ran across it. It makes sense – many systems are different ways to accommodate the same structure, and are not necessarily incompatible.
---