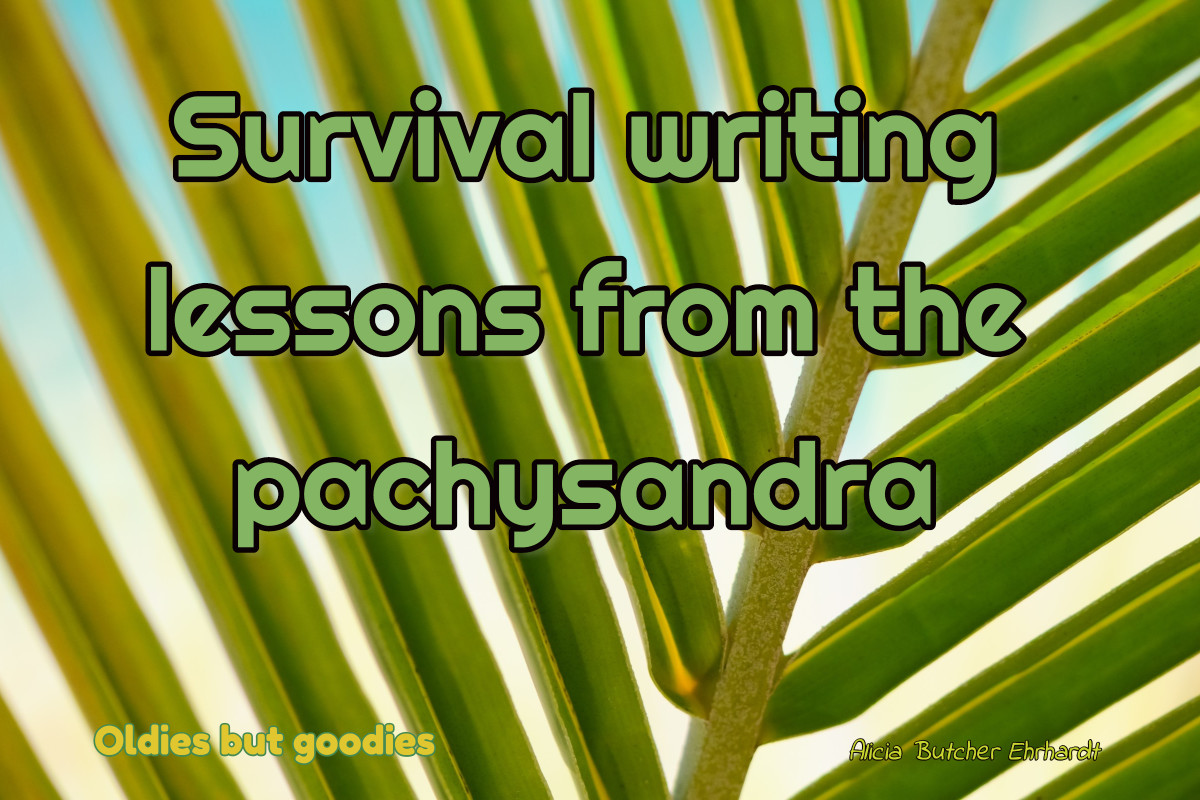 I MISS PLANTS I SPENT AGES TENDING
I don't know if pachysandra live on the West Coast, and I'm no longer in charge of anything living from the plant kingdom except two tiny but growing coffee plants, but re-reading this post made me feel wistful and encouraged at the same time.
Pachysandra is a very Princeton ground cover. Dark green, shade-loving (so it does very well under trees), and distinctly slow to invade, it is perfect for filling in large tracts where there will be falling leaves – it eats them and rarely complains.
Our neighbors didn't have much of it, and they had a LOT of raking and blowing in our neighborhood, as we lived, by choice, where there were many trees.
I think trees are what I miss the most from New Jersey – we had a good combination of evergreens and deciduous trees such as sweetgums (a pain to clean up the gum balls, but the colors are glorious – from green to yellow through red to deep purple on the same tree at the same time). My window here faces another wing of the building across the entrance courtyard with the flagpole, and there are some trees greening up, but it's not a forest.
---
From October 2012 when we were still homeowners, and I was far more mobile:
Pachysandra, writing, and mental toughness – driveway, part 3
Is there life in the apparent dead? What does it take to hold on, take root, and grow again?
As a writer whose writing continually gets interrupted – by my own physical problems in combination with doing what needs to be done – I wonder if it's even worth trying again.
Sometimes I get my answer – YES! – in very odd places. Being a writer, I think about it, organize the words in my head, and then write about it. I can't help myself. A few notes on the 'gathering' page of my notebook, a little bit of time, and out it comes.
Why pachysandra?
Because the stuff is tough. And full of life, even when chopped off.
To do the driveway …, the edges had to be cleared of overhanging vegetation. Pachysandra is a very polite grower: it goes where it's wanted, slowly filling in where its roots are allowed to wander, following the soil. Even the inch of soil and leaf litter that washed over the end of the driveway. Slowly and steadily, because it wasn't told not to, the pachysandra moved in until it was literally growing on top of asphalt.
I trimmed the plants. I tell myself it is like giving the plant a haircut – the cuttings aren't all that important if the plant is left functioning where it can. But the cuttings looked so healthy and green and cheerful I just couldn't toss them. So, with some vague idea of transplanting the bits and pieces to fill in a couple of bare spots left by the drought of a few years ago, which were only slowly and politely filling in from the drought survivors, I threw the pieces into several buckets, and dumped a couple of inches of water in each.
You know what they say about planning, right?
The original plan was to put the cuttings in neatly, cut ends in the water, toss in some rooting hormone, and plant the neat little survivors when they had a few baby roots. Well, when you're in a hurry, and the driveway sealers are coming TOMORROW, neatly turns into tossed in clumps, the cut ends often didn't make it into any water, and a bunch of what looked like white roots with root hairs and an occasional green tip got thrown in, too, with no plan or purpose.
Then a bunch of stuff happened – and it was over a week before I got back to my buckets. To my surprise, most of the pieces weren't dried out and dead, or drowned and decaying. I reluctantly spent some of my time and energy – after all, I had PROMISED the parent plants – dug some shallow trenches in the bare spots in the hard dirt, lined up a bunch of pieces in each trench, and pushed the dirt back in. Loosely.
I didn't see much life
The pieces were either way too many stems and leaves – or those bare-root pieces with NO leaves. I figured the latter could decompose and serve as organic material if nothing else. Only a couple of the pieces were traditionally transplantable: a piece of stem with a few leaves and a chunk of root. I watered, mostly dumping the water the poor plants had been soaking in or not soaking in, making very unpromising mud.
Two days later, noting how many of these pieces STILL looked alive, I watered lightly with a watering can – water is heavy, and I carried it from a bathroom sink rather than drag out the heavy hose for such a small job.
I've had no time for them – but darned if those pachysandra cuttings aren't still holding their leaves up and green and perky – and waiting for me to provide a little water. I expected a few pieces might survive – but instead of a ten percent survival rate, I have a ten percent FAILURE rate.
And those tough little plants are making me ashamed
to doubt that my writing, too, will come back the minute I give it any encouragement, provide it some time and water and sunlight, and just let it live.
I can't kill it. It's going to look for ANY hope, politely and slowly filling in where it is allowed, until it, too, pours over the edges of the frame I'm keeping it in, into that shallow layer of mud on top of asphalt where the roots are shallow. But green and vigorous. And HEALTHY. I can channel it, prune it, replant it where I want it.
And I should. Because it is full of life and mental toughness – just like that well-behaved but riotous ground cover that keeps pushing the boundaries.
I take my lessons in survival where I can get them.
---