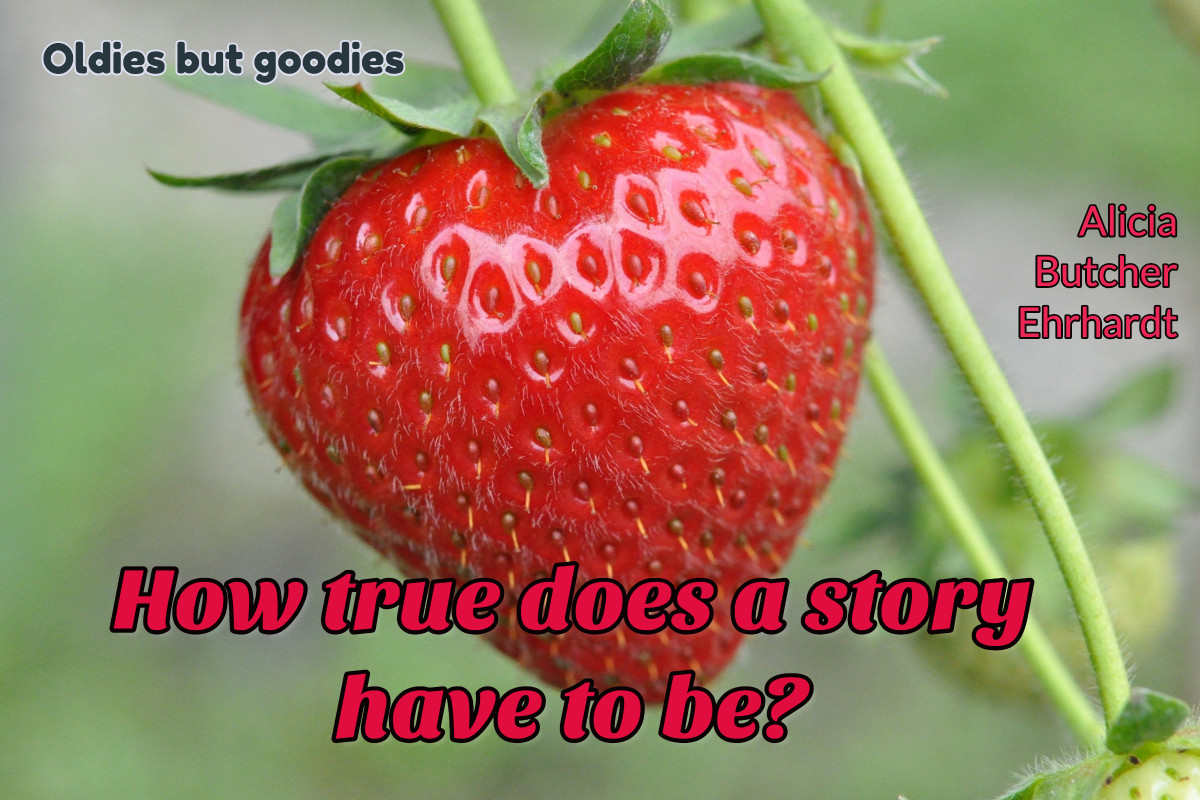 IF YOU WANT 'TRUTH' WRITE MEMOIR?
Knowing that memoir, non-fiction, history… all are someone's version of  'the truth' or 'what actually happened.'
Back before I finished Pride's Children: PURGATORY, I remember wondering whether it was okay to tell a story that would take quite a lot to be true, and yet should feel absolutely as if it was true, as all fiction that lasts does.
The image above, or a very ripe strawberry, reminds me of one of the early scenes in Firefly (one of our family's all-time favorite TV shows), where Kaylee acquires an amazing strawberry from Shepherd Book, as part of his passage on the ship.
Is the idea better than the reality?
I can't eat one – and we have them daily here – without thinking of the look on her face as she bites into the perfect fruit. All of them aren't that perfect, but we don't care – the idea of  'strawberry' is a powerful umbrella which covers a little imperfection here and there.
I stopped worrying, went ahead and finished that part of the story exactly as I had planned, making it as true as I could make with smoke and mirrors.
I'm trying to do the same sleight-of-hand with the next volume.
---
From October, 2012:
Telling fairytales: giving readers false hopes
One of the things getting in the way of getting on with editing Pride's Children, the WIP, is an insidious little voice in my head saying, "That could never happen!"
My brain tells me I shouldn't write the story of someone who gets something in the story she would never get in real life – and that it would discourage people with similar problems from even thinking about what happens in the book – lest it give them FALSE HOPES.
And then I remembered that's why humans tell stories.
In stories, the ugly duckling turns out to be the swan, more beautiful than all those picking at him. And Cinderella, the girl whose stepmother and stepsisters treat her like a servant, marries the Prince.
The point is – if we don't tell stories and read stories – all we have is reality. Reality is harsh. If it were not for stories, humans would all die early by 'failure to thrive.'
We need stories in which there is hope.
That it may be temporarily false is not important. If we mature, we will grow up to discover our own place, our own story, our own Prince – our own way to be happy. Either we will become President – or we will decide it is too much work to be President, anyway.
Children – and I think most people can remember being different, wanting more than they had, wishing they were more popular, or their parents had more money (so they could have that pony my eldest still asks for – at 26) – don't have the tools to create their own reality where they are happy. Stories teach them (and adults who are still struggling with the same questions) those tools, or at least, that there ARE tools.
This could happen.
My story, if I am successful in my aims, will let someone spend a bit of time thinking 'this could be me, this COULD happen,' and thus keep that someone happy enough to keep trying for another day.
That is a good enough reason to write.
---