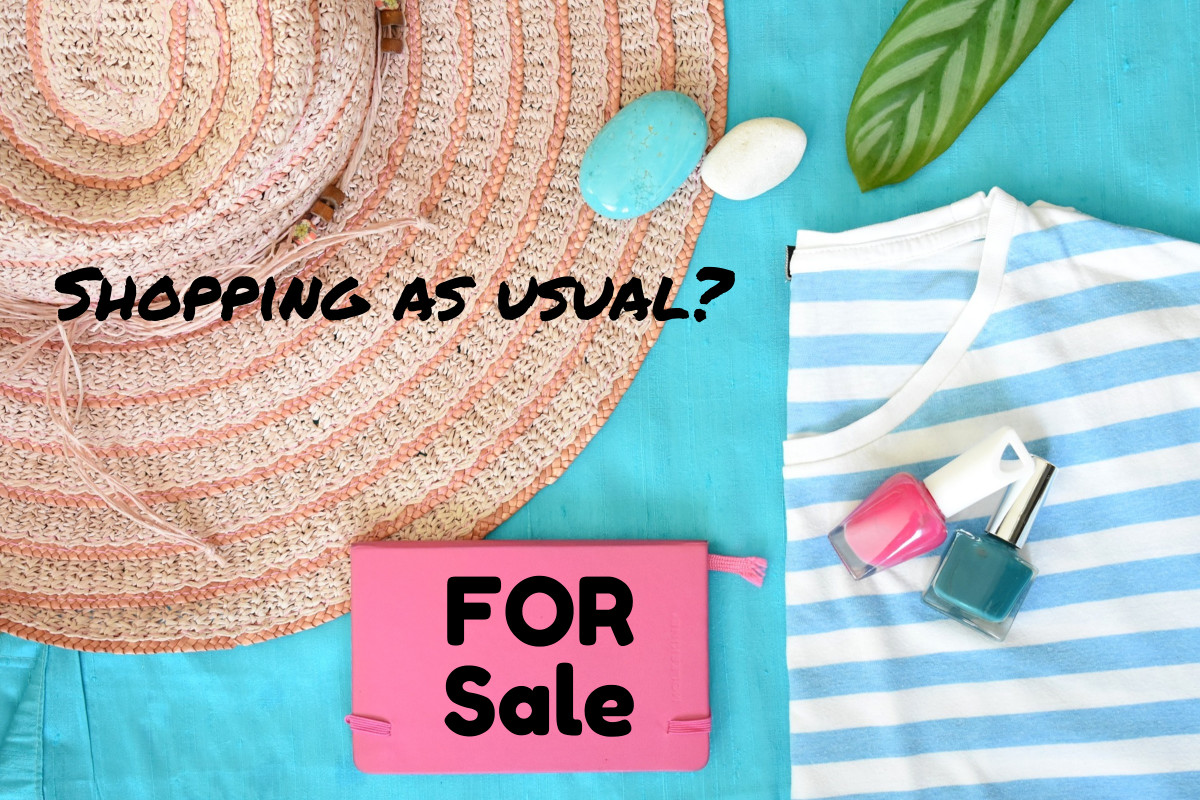 NORMAL WHEN IT'S NOT NORMAL OUT
A flyer from Kohl's in the mailbox touts a sale March 25-29. It's a surreal reminder or normality – advertising flyers are set up, and the sales decided, months in advance. The products, seasonal, have to be ordered, decisions made about what clothes people will need in the next buying period, Easter – it appears, from the elegant children's clothes.
While some incomprehensible person in Washington says grandparents should die for commerce, instead of being around for the grandchildren to hug for the Easter dinner in their cute new duds. And Italy reports considering that breathing support won't be available for those under SIXTY. New low.
We're not that far out from normal
It is very different, depending on which pictures you see in the news – between the photograph showing a packed Bondi Beach in Australia or Daytona Beach in Florida and ones showing a piazza in Rome more empty than it's been in years – but it hasn't really been that long yet.
A few months since the first cases in Wuhan, China, to total lockdown in Davis, California, for the safety of old folk for whom there will not be enough ventilators in local hospitals.
The SCALE has shocked the world, but far too many people still don't believe it.
And the more optimistic among scientists, and especially among politicians, are hoping 'normal' comes back within a couple weeks, wherever they are, so that we don't mess up the economy too much for their taste.
We're still in the world of Just-in-time inventories
Of factories with so much capacity they can produce what is needed with a quick turnaround – and of inventories so low doctors and nurses are re-using face masks usually disposed of after each patient, and re-using them for many, many patients.
We've gone from crowded shopping in grocery stores where there are SALE! signs everywhere, to standing six feet apart in the checkout line.
And we don't know which patterns will last, and which will be gone the minute there is a vaccine to protect from COVID-19.
We're feeling mental whiplash.
A month ago…
Having the husband head out on the facility bike to do some grocery shopping was a bit of exercise tacked onto a chore…
…Now it is a death-defying adventure into a post-apocalyptic landscape.
Getting together in a small group in the Piano Lounge to sing folk songs…
…Not even allowed because the room is small and enclosed, even if people stay six feet apart from each other.
Going to the pool was almost a social activity…
…And now we are being supervised like children by management to make sure no one uses or touches anything.
Online shopping was a convenience
For us, without a car yet in California, it was so much easier to have things delivered that I think we had a package a day delivered to the front desk!
Now it's an adventure in finding a time slot in which your local grocery store can deliver food and TP (assuming they have some) after you've filled in a very detailed form online with many restrictions – and for which someone else will choose your ripe bananas.
As a shut-in, basically (little energy and little mobility are a real deterrent to shopping in stores), I'm used to the concept.
But everyone else is still trying to wrap their mind around what can and cannot be done, at the same time they wonder why on earth they would even buy an Easter dress.
Welcome to my world, sort of
And I wonder if you will have been changed permanently by your visit, or whether you will just have a few vacation photos tucked away in a virtual album somewhere.
Try to remember – and have some understanding of what the permanent residents deal with daily.
I STILL don't see much of a plan for the NEXT time we get a novel virus.
---
Stay well. Read books. Get around to those projects.
If you survive… what will you have to show? As I tell myself to stop watching the news and get back to NETHERWORLD. It isn't writing itself, but we did have a good day.
---