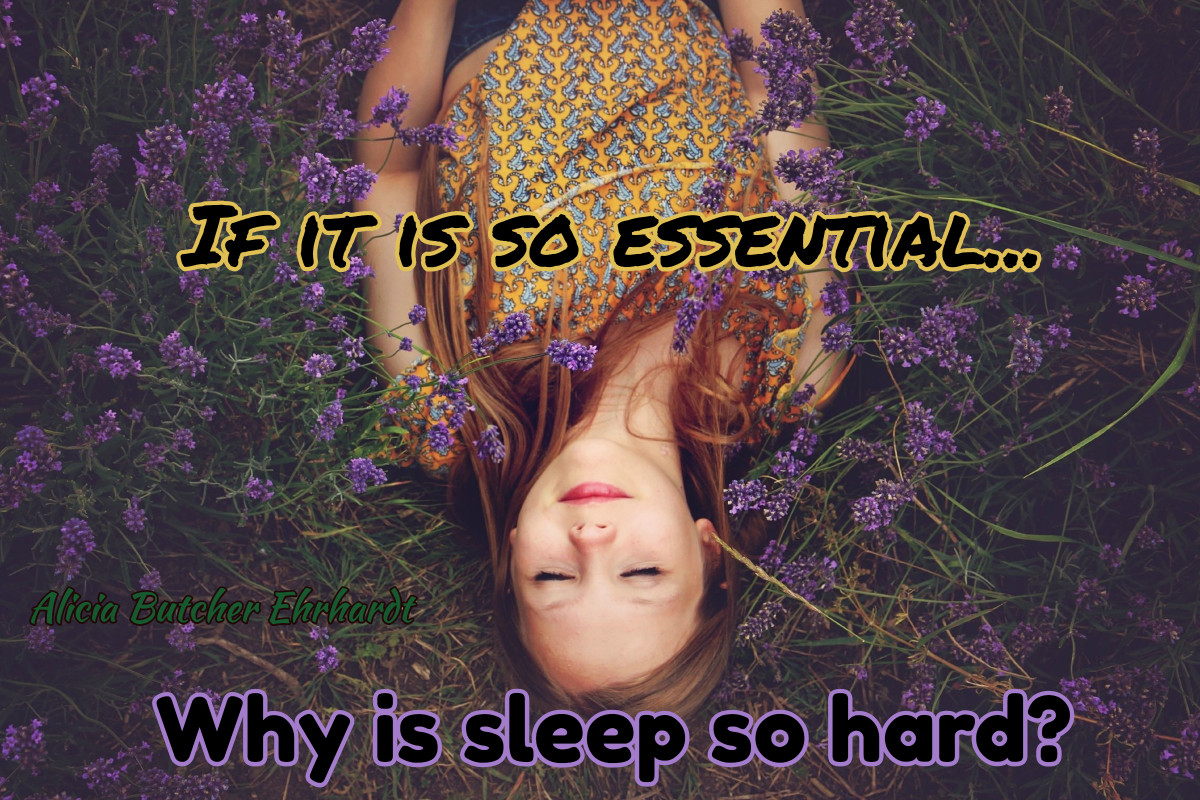 I FEAR THE FEELING OF FALLING ASLEEP
I have to confess that I'm not normally an easy sleeper.
Partly because late evening I feel almost human (it's not real – I don't make good decisions then, and I can't write then).
And partly because every single morning is a struggle to get myself into a state where I can function at all.
Here at the retirement community I've had the ability to sleep later in the morning, and to take naps whenever I need to (or should) take them, I have been able to compensate – and get enough total sleep during a day so that I'm not a complete zombie (there's a reason sleep deprivation is literally torture).
But it's mostly fear
I have learned, grudgingly, to give in to the sensation of losing control of my own mind – because I try to master my fears.
But I have never liked the loss, and I fight it – especially when I'm tired and my decision-making faculties are diminished – and I can literally force myself to stay awake if I think something bad is going to happen that needs me to be coherent to deal with it.
This is NOT improved when I wake up in the morning and something new hurts.
Or I find the body position I'm in has resulted in one ankle pressing the skin and flesh on the other ankle into something completely flat that aches and cramps as the blood returns, quite painfully.
Or the medicine that I took right before sleep has decided to dissolve in the back of my throat and wake me with uncomfortable pressure in the middle of the night.
If I could skip sleep
I would. Almost every night.
But I feel worse without it.
And I know intellectually that sleep is so critical that a form of torture is to not let people go to sleep.
I also take 3-5 half-hour naps during the day to rest my brain: if I haven't had enough sleep the night before or days before, those naps can turn into deep sleep with nightmares during the day. Even with an alarm.
The lockdown and the coronavirus make it hard to let the day go
The tireder I get, the less I can use my mind to suppress the things that are worrying me – as they are worrying everyone on the planet right now: my personal situation re medical services, the lives and careers of my children, and of my family in Mexico. The uncertainty of tomorrow.
Knowing we haven't had a case here (probably), and wondering if we will – given the news that the virus rips through senior communities leaving devastation in its path.
Since it's a constantly changing situation, we can't relax into a new routine, because nothing is routine now.
So I have trouble sleeping.
I've tried most 'solutions'
But I either can't take them (I tolerate very few meds) or they require me to do something at a time my brain isn't capable of it.
And you can't cure existential angst – it's real.
Meanwhile, I brush my teeth, make sure I have something I can eat in the middle of the night, do my stretches for restless leg syndrome, say my prayers – so that when I reach that point every night where all of a sudden sleep is worse than continuing awake, all I need to do is lie down.
And the battle to stay asleep begins.
Because it's never a one-time decision.
Things that keep me from staying asleep:
hunger
uncomfortable binding around any part of me
anything bumpy under me
pain
worry
a thought in the middle of the night that must be written down
sometimes (!) fiction
being too cold or too hot (repeat several times each night)
gut pressure (what the heck did I eat?)
thirst
the sound of the firetrucks and ambulances coming to the lobby
outside sounds (do they really have to do these things mid-night?)
rain
husband's breathing
funny tastes
a muscle that twitches every ten seconds for hours
etc.
I can now consume cottage cheese in the middle of the night without waking – much. Which then requires that the next chunk of 'sleep' be done sitting up a bit.
If I'm desperate, I turn the computer on and play sudoku or something – after about an hour and a half (one sleep cycle), my body is given permission to try again.
And eventually it takes. And sometimes I can sleep enough into the morning to almost have a decent number of hours' worth total sleep.
I don't think it will get better for a long while – the world has turned and is now essentially unstable.
Who wants to go to sleep when it might be your last time awake?
Which is silly, because 'going in my sleep' is my preferred method of checking out!
Because I'm not ready. Honest. I'm in the middle of a novel, the middle of a trilogy, and finishing them is the plan.
Even if 'plan' has become a joke.
Hope y'all do better at this sleeping thing than I do.
---