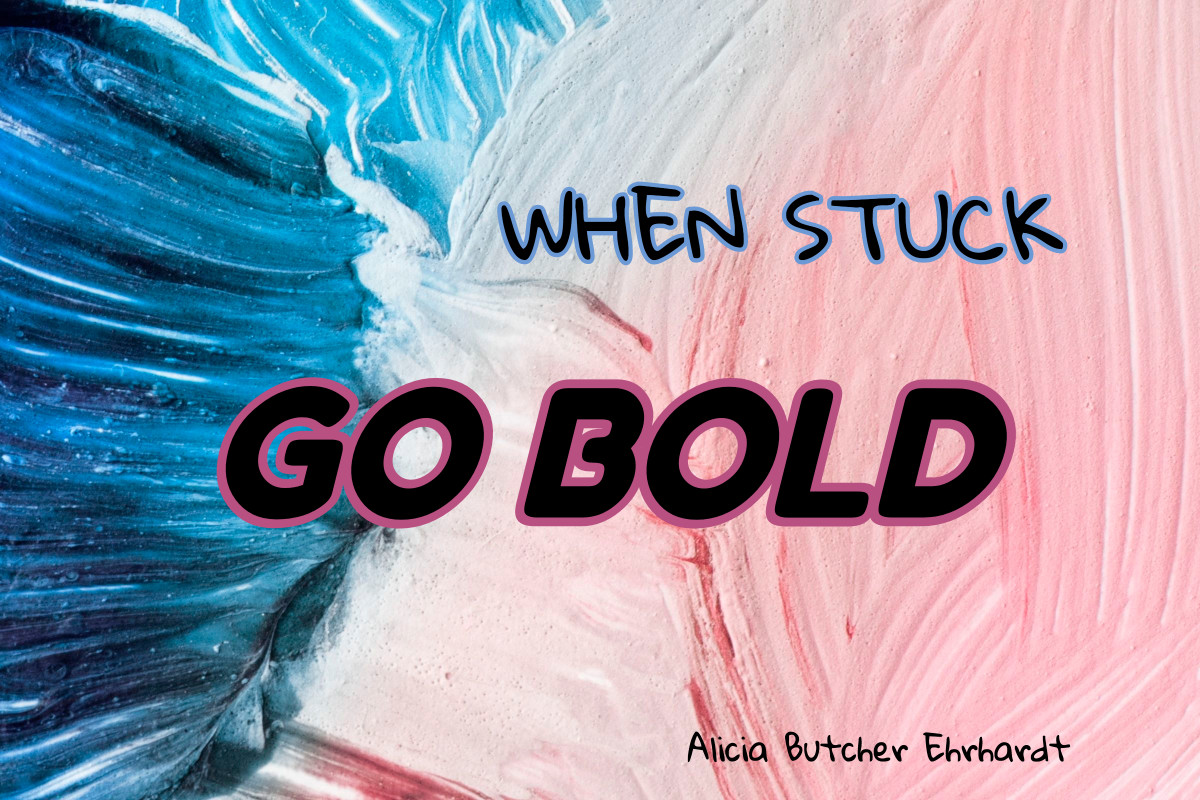 NOVEL SCENES HAVE A PURPOSE
They are not just 'something that happens next.'
There are many different ways to accomplish that purpose, but there's a tendency, as a writer, to have things happen in a particular way, and to have that way get stuck in the chute.
The more things a scene needs to accomplish, the longer it may end up needing to be.
But writers' brains have the same habit of getting stuck behind the wrong idea as any other brain. And maybe my ME/CFS brain does this more than most writers' brains because change is so difficult for me.
When it isn't gelling
So the first thing to do when a scene isn't writing itself, after a reasonable amount of time expended trying, is to separate the essentials from the window dressing, and consider finding a different way entirely to enact the required elements – and change the window dressing to something else entirely.
A scene could be huge, with many characters interacting.
Or a scene can be small and intimate, or small and intimate within a chaotic outer setting, or the kind of scene where it isn't until the end that you realize a whole bunch of things have come together.
A paced novel will have all kinds of scenes, to avoid monotony, to keep the feeling of surprise and discovery going.
But few scenes have only ONE way to accomplish their task.
When I started writing this post, I had just made a deceptively small change – the hour of the scene went from 4pm to 8pm – taking it from mid-afternoon to sunset – and was able to unstick a line of attack completely. The number of participants also dropped – from crowd scene to two principals.
Lawrence Block says that when things get stuck and you don't know what to do next, you should bring in a man with a gun.
That's a pantser's move.
I'm an extreme plotter, so that's not really an option.
But one of my writing guides, Armando Saldaña Mora's Dramatica for Screenwriters has a whole section on how to change the scope and size of a scene, and still accomplish that scene's purpose. Which is the real advantage of my kind of plotting, where everything has a place.
Changing a scene completely is often a budget move for movies
If the purpose is for the Protagonist to say goodbye to the Antagonist, say, the scene can be large and showy and done in front of hundreds of extras – or it can be small and intense and private and done in the back seat of a taxi ("I coulda been a contender" speech, Marlon Brando, On The Waterfront). Where the taxi isn't even really moving.
It is something only the novelist will know in a novel, where words themselves are relatively cheap, even if producing them costs blood: was this scene completely different at any point before publishing?
Changing the scene in NETHERWORLD
You don't have to choose between 'telling' and 'showing' a scene; there is more than one way to 'show.
The original scene was going to happen while ON the set of Opium, filming in India, where the main character would watch the filming for an hour or so, and then form her own conclusions about the undercurrents in the cast.
It works much better without the actual filming being observed, and the scene purpose is fulfilled in an even more intense way. Since the details of filming were background in PURGATORY, the reader gets the idea – and I don't have to repeat it.
The result:
An unstuck scene
A better scene
A scene between two main characters, instead of one with many to track
Advancing the plot
Better dynamics
Definitely better dialogue
So if it isn't working, and you've spent enough time that it should have gelled by now: consider that you can use a lot of what you already figured out – but reframe how the reader is going to learn what you need the reader to know.
Be bold; try something different.
---
Really different.
Have you done this?
---