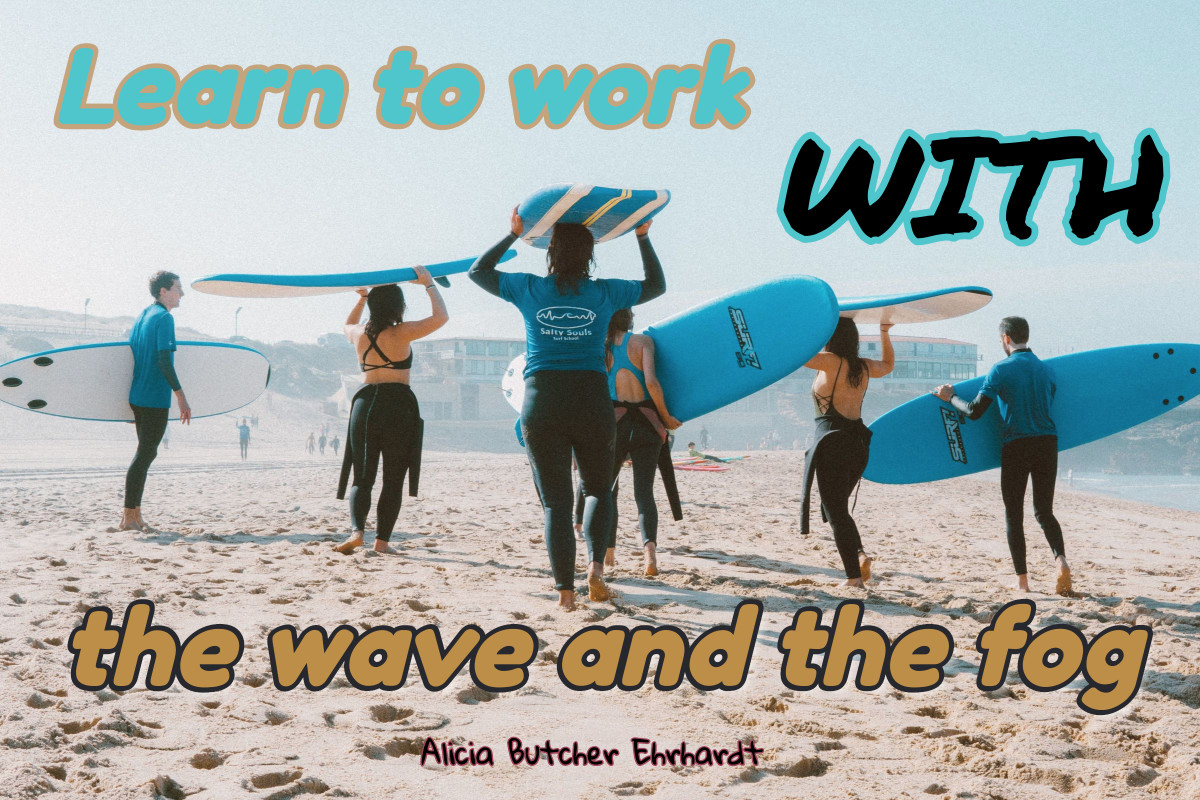 WORKING AGAINST THE INEVITABLE IS EXHAUSTING
The instructions for getting to shore safely when caught in a riptide are to let the current take you where it will, while swimming slowly across, until you're out of its grasp.
If you try anything like fighting the current, you will drown after you become exhausted, unless one of those nice fit lifeguards sees you and gets to you in time.
Because the current is stronger than you are – by many orders of magnitude.
What is brain fog?
If you have to ask, you haven't had it. I'm glad for you.
It is feeling, within your own skull, that you just can't think.
That your brain is in there somewhere, maybe, but you can't get to it. Other names are chemobrain, fibrobrain, stupor, …
No matter what you seem to try, you can't get out of the fog – and you can't think.
It can be caused by illness. By medication. By sleep deprivation. By eating or drinking too much or the wrong thing.
It is a huge part of life with ME/CFS (myalgic encephalomielitis/chronic fatigue syndrome).
It robs you of hours of time.
Healthy people may have ways of exercising through it. Some people can take a stimulant like caffeine to focus and wake up, or ADHD meds.
Rest SHOULD help, but for people like me is often not restorative.
And what is this thing you're calling a vagal wave?
The vagus nerve enervates much of your body, from the spinal column up to your brain, and out to your limbs. Including innards you don't have conscious control over, such as your digestive system.
It covers so much territory, it's hard to know exactly where the sensations are coming from sometimes.
I get periods of time, long ones, when it feels like a wave motion is going on in my body, and all I can do is sit there and let it do its thing. Sometimes painful (the meds after stents caused a horrible case of constant waves of pain in the gut), sometimes not.
When I sit in front of the computer screen, ready to write or focus or think, but the waves are going, all I can do is to grit my teeth and live through them, hour upon hour.
But I'm a problem solver by nature and training
and I finally was able to pay enough attention to the combination of not being able to think, and feeling as if I was in an aquarium (the modern kind with waves).
Data is essential for problem solving, both to identify what's going on, and then, when you come up with solutions, to see if you've managed to change something.
And I finally collected enough data (over months of not being able to write very often), to see some correlations.
I have to eat. We all do. And I can't think starving, so I can't postpone the eating TOO much, plus I seem to get these shaky periods of low blood sugar if I put off eating too long, and then it's an emergency to eat something.
I don't eat many carbs, so it baffled me – sugar messes with my brain, and the day after eating sugar there's no way any thinking is going to happen. I don't even bother trying any more.
But I FINALLY noticed
that 10-30 minutes after I EAT, the waves start, and the brain fog.
I used to try to push through – and the only result of that was to spend hours in that state.
I tried taking naps when I got tired – but they weren't organized or planned, and the effects didn't seem to correlate with anything; it was just something I HAD to do.
And I finally figured it out:
My damaged and severely limited energy metabolism doesn't have enough at any given time to do BOTH: keep me awake and functioning (or even get there), and digesting my food.
It took some tweaking, but I have found a system which takes advantage of my need for napping and my need for food, and times them so that they don't conflict.
So now I run a time-share
I get up, drink First Diet Coke, and try to get a bit of writing or organizing done before I eat anything.
When hunger tends to shut me down – anywhere from a few minutes to a couple of hours later – I prepare for the next phase: I eat something (mostly protein), but I start getting ready for the changeover from thinking to digesting. I take notes so I can pick up easily when I come back.
And when I feel the waves starting, I get into my jammies, pull the shades, turn the lights off and add an eyemask to block external stimuli, and get in bed.
I set a timer for 35 minutes.
If the wave approach is gentle, I'll do a quick range-of-motion set, a couple of minutes worth.
If the approach is sudden and severe, I just crash. I used to fear this part – now I just realize I dragged my feet too much.
Lights out. Body temperature drops abruptly (ergo, the jammies). Sometimes deep sleep, sometimes a coma-like state.
The digestive part of the vagus nerve's control takes over – and I don't get in its way. No reading. No TV. NO COMPUTER. No trying to think, or push through it, or ignore it.
Just give in.
And when the alarm goes off
I get up, stretch a bit. Get some water, and Second Coke, and NO FOOD.
And within minutes I'm functional again (inasmuch as I'm ever functional), and I can usually work/write for an hour or two until I've used up my nap energy, and need food again.
I try not to do Third Coke after Second Nap – that's too much caffeine for the day (each can is about 45mg of caffeine – peanuts compared with a cup of coffee or an energy drink, but it's about as much as I can tolerate at a time without getting scarily shaky).
What I should do is not drink First Coke until after First Nap, but that has other physical problems related to it that I prefer not to go into here.
For years I've taken 3-5 of these 35 minute naps every day.
And I ALWAYS wake up in a better state than I laid down in.
But this is the first time I've coordinated all the pieces, and added the realization that DIGESTION TAKES PHYSICAL ENERGY.
And that my energy supplies are so low, I can't afford to have the processes of thinking and starting digestion going at the same time.
I've been testing this system for the past week
I'm only taking 1-2 naps most days – probably because they are at the right time.
Eating is the trigger – every time. I hadn't realized how strong it is as a trigger. Though it makes perfect sense: you eat, your body starts digestion. Duh!
Not having a good night's sleep can cost me the first workable period, and, on a bad sleep night, I may not be able to recover the following day at all.
If I exercise at all – and right now we're only allowed to use the pool in a predetermined half-hour slot during the 8-11am time – even if it's the gentlest possible stretching in water – most or all of the rest of the day is shot, because I can't make up that energy. So the two swim days a week are going to be non-writing days, most likely. Evening would work, but the county rules for the pandemic require a staff person supervising, and the facility is only providing that on weekdays in the morning. Before, I used the pool alone whenever I wanted to, and it was usually in the late afternoon or evening.
If I try to defeat the system and push through, all I do is foul everything up, and get neither rest nor functionality nor good digestion. Timing is critical, as is diversion of energy from one stream to the other.
I might have figured it out sooner
if I had a readout somewhere on my body of both energy usage and remaining stored energy.
I've been fighting this battle for years, but I never got quite the data until I noticed the crash after eating – and thought about it. And then it made sense: I'm broken, but I still have some small amount of control.
What I need was all this pandemic isolation and time, and the frustration of the crashes, and some insight that I still don't know where I got. I have time – lots of it – but was not making much progress in writing NETHERWORLD, except what felt like randomly.
And when the brain was there, I could write for a while – and then it would go.
The PRINCIPLE is the key
I have only enough energy for one process at a time.
I'm lucky I do. I think aging takes its toll, too, and I'm probably producing less energy, total, every year.
Many people with what I have don't have even this amount to work with – and spend their days playing catch up, with task after basic task barely getting done.
I've written this in the hopes of saving someone else with this kind of severe energy deficiency management the years of figuring out how to make the most of their energy creation and storage capacity.
Please let me know if this is of any use.
And pray it makes me a faster writer – I really do well with my brain on!
---
My thanks to Stencil for the capacity to make interesting images for these posts. Give them your business if you need to produce this kind of image – they have lots more stuff available than the free accounts use.
---