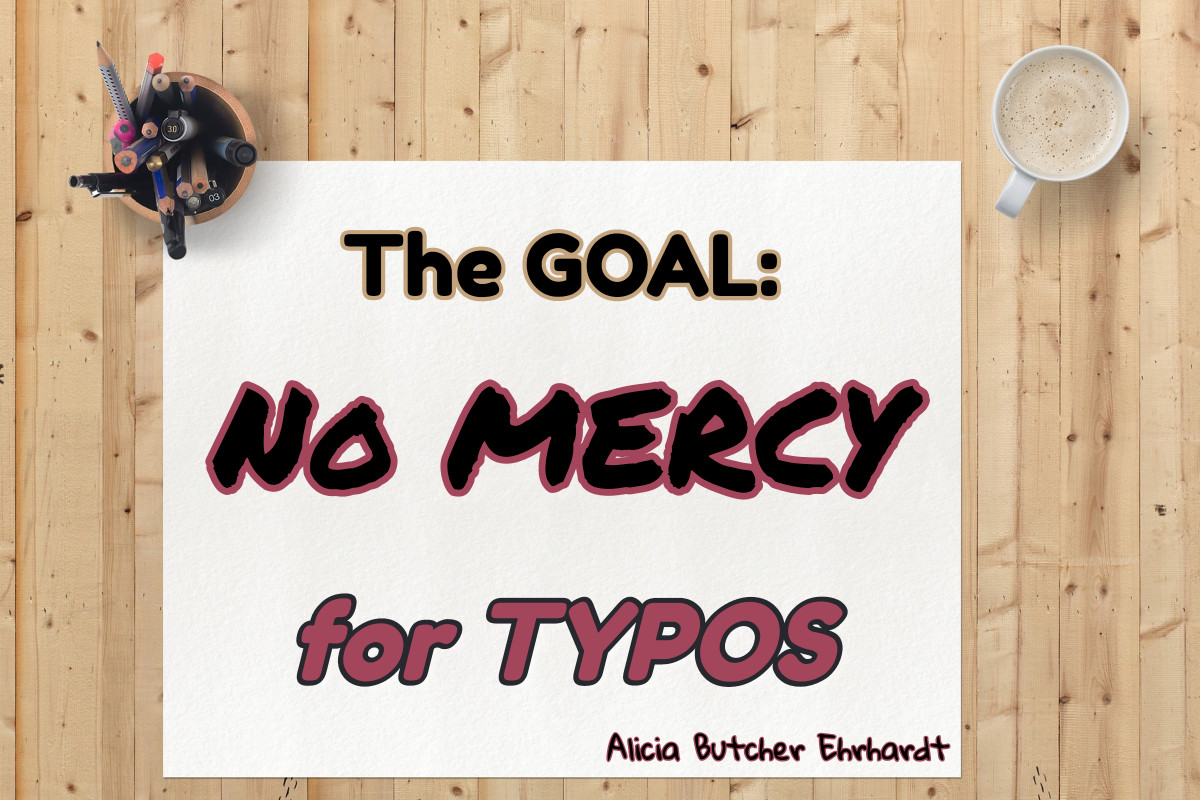 IF YOU DO YOUR OWN EDITING, BE MERCILESS
Despite the recommendations of every editor on the planet, some of us do our own*.
Editing's no different from any of the other tasks a self-publisher tackles:
You are not going to do it perfectly
It is a skill – and you are not born with it
Learning has many steps
There are books which will teach you (or you can take a class)
It takes time to do it well
It is not inexpensive – if you count your time
The professionals started somewhere
The results are there for everyone to see
No matter what you do, someone will criticize you
There are objective standards – but not everyone agrees what they are
There is great satisfaction in doing it yourself
Why do your own editing?
Because, in the long run, everything you learn makes you a better writer. Because you can. Because it is always available, on your own time schedule, at your own price (but don't forget that the time you spend editing might be better spent writing). Because you can't afford what a good editor costs, and a bad one is useless.
In my case, because I am incapable of interacting with someone else about my own work. Call it a feature – or a bug.
How to have an editing program assist you
After I have almost everything written, polished, listened to, and in what I consider final form, I run it through AutoCrit – and all of the COUNTING it does for me:
Duplicate words.
Overused words.
Two-, three-, and four-word phrases repeated (ouch – unless deliberate).
Unusual words.
Cliches.
Generic words.
My own personal word list.
Adverbs.
Each and every one of these flagged items gets put through a wringer: Context. Intent. The possibility of synonyms, and a consideration of nuance. Number of repetitions. Whether the repetition is by accident or design.
In other words, everything that has bitten me before.
What I don't let it 'help' me with
Anything else.
Why? Because I don't trust its judgment on 'passive voice,' or 'subject verb agreement,' or 'tense.' Or 'readability.'
I have a set, but complex, style. Autocrit doesn't see italics, for example, but I signal to the reader that something is a direct thought by changing to first person and putting the text in italics. So if you read:
There is no way I'm telling him that.
you'll know it's a more intense thought, in those exact words, than general internal monologue:
She wasn't going to tell him that.
It's too complicated for an automatic program.
But the counting alone is an amazing help for me
When and where I need it.
This is my reason for having a lifetime membership – my brain is tired more than lazy all the time due to chronic illness and disability, so I let it serve up the most convenient word WHEN WRITING. But I'm not going to let first words stand – not without a raze-to-the-ground fight.
Because my readers deserve the best I can provide on the LANGUAGE side of the writing.
Self-editing with a program is a tool
It takes a fair amount of time per scene, but I think of it as the best investment of that time I can make, because the final product is improved in so many ways. I look for strong verbs instead of verb + adverb combinations, more precise nouns instead of common nouns, and also places where I can reinforce a motif or thread I want to keep.
And I don't have to count or do the time-consuming searches because Autocrit is merciless.
Last tip
After the scene is polished through this process, I put it through several of the steps one final time – because I have had the experience of working on synonyms and nuance, and finding out that to reduce the count of one way of saying things, I have increased the count of another!
*Adapted from an online comment – you may have seen some of this material before.
———-
Do you use an editing program to improve your own writing?
How?
———-