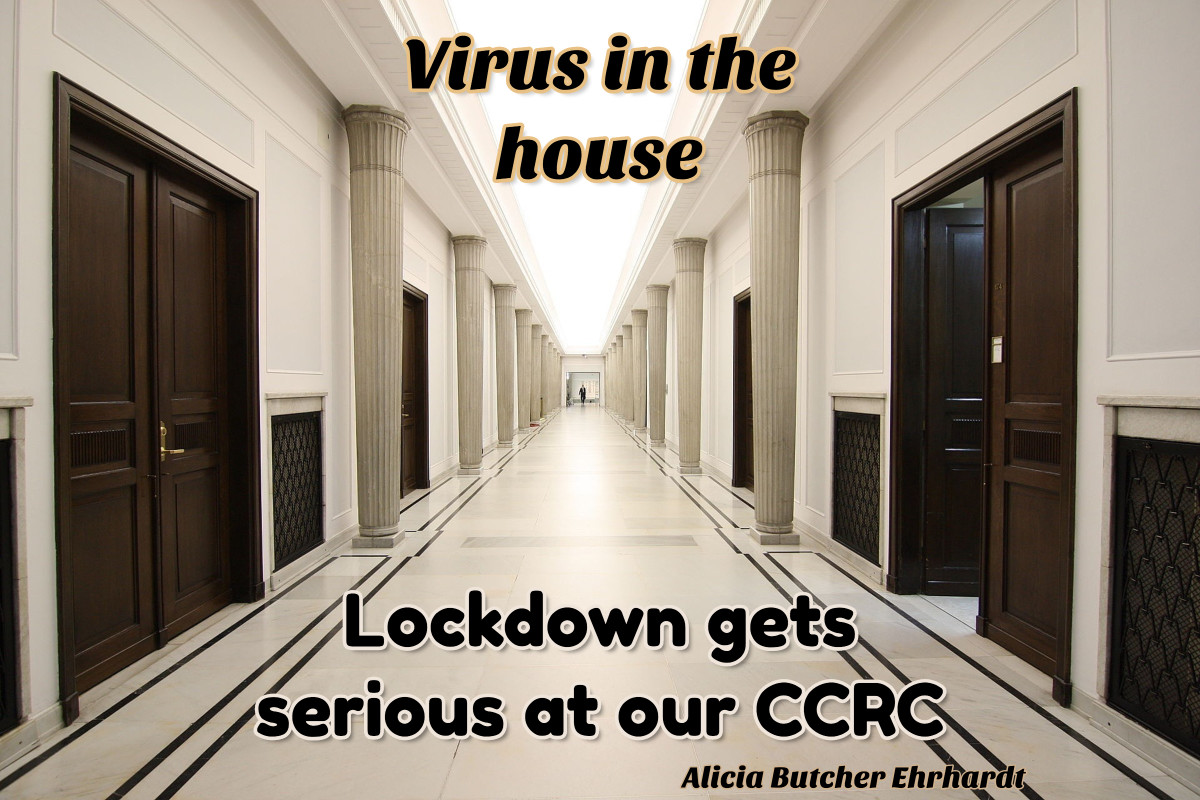 THE CONSEQUENCES OF SMALL MISTAKES MIGHT BE DEATH
That's what makes it so scary.
We have now had one staff case of covid-19.
Management sent a memo, said this staff person is not in direct contact with Residents of our retirement community, and that they had done contact tracing with whoever might have been in contact with the staff person. They were waiting for the results.
Today, at our weekly half-hour QuaranTV closed-circuit broadcast, I asked, and was told the tests on the contacts have come back negative. We have not been told how the staff person is – they were home self-isolating a week ago or so, and we have not had any more information.
And a couple in Independent Living
is under their doctor's care, and self-isolating in their apartment.
Word is they brought the virus in from somewhere they went, which could have been anything: a doctor's appointment, a trip to the grocery store, dinner in town during the recent reopening (now canceled), or a trip to their Lake Tahoe home for a weekend or a month.
I understand privacy laws.
We will be told only what we need to know.
Which begs one important question in a facility which also has Assisted Living, Skilled Nursing, and Memory Support: can the person(s) whose contacts were traced be trusted to remember everyone they came in contact with?
A major facility rehab is ongoing
Painting, new carpeting, woodwork – the whine of tools is omnipresent.
The workers are doing their best – and need the work.
But I keep seeing people – Residents, staff, workers – who seem to not realize that the mask they are wearing MUST cover the NOSE as well as the mouth. Or is basically useless.
Why so many people are incompetent at that basic task baffles me.
They don't seem to realize. I've seen someone when reminded put the mask up over the nose – only to have it fall off IMMEDIATELY – and then they do nothing.
How do we protect ourselves?
I personally treat the entire world outside our apartment as contaminated with a layer of a fine dust. The dust is invisible. The dust is like the radioactive dust from Chernobyl: invisible but deadly.
"If you could SEE the virus, would you go out?" asks a Facebook post.
Of course not. And if we did, we'd take it more seriously.
But that only includes those who listen to the scientists, and understand the concept that whatever you pick up needs to be delivered, at some time, to your eyes, nose, or mouth – the mucous membranes are their target.
Even just putting on my gear – nametag, mask, phone into plastic sandwich bag into pocket, keys into other pocket, backpack – is the start of the whole 'you might be contaminated.' I wash my hands at least twice when I come back: once immediately, and again once I have removed my outer gear, nametag, etc., etc. – just in case.
I don't know if those who have gotten ill here – staff and Resident – were careless
I'm assuming they were unlucky.
Since we don't know, AND THERE ARE NO PRECAUTIONS WE AREN'T ALREADY TAKING, it doesn't really matter.
I won't worry – I will just continue to do EVERYTHING, because I don't know what people are thinking out there.
Wash hands. Don't touch face. Wear mask. Do not give the virus, which you may assume you have picked up somewhere, A RIDE TO YOUR EYES, NOSE, OR MOUTH.
THIS IS STILL THE FIRST WAVE OF THE PANDEMIC
We in the States never defeated the First Wave.
The Reopeners are living in a fairyland.
There is no vaccine.
There is no cure.
The treatments are symptomatic – and don't fix much.
If you end up in a hospital, you're already in bad shape.
If you end up on a ventilator, your chances of making it out are abysmal.
An estimated 10% are NOT RECOVERING – still sick after months.
And we've now had several cases in our little enclave.
And Yolo County – and most of California – are finally paying attention and closing down, because there are more cases and more deaths – AGAIN.
I'd hate to be one of the unnecessary deaths.
One of the people who were refused treatment.
One who got the virus from someone acting irresponsibly.
---
It sounds self-centered, but the time will go by, regardless of how I use it. I'm writing. NETHERWORLD continues to get written, polished, and sent out to my lovely beta reader.
Me NOT writing will help no one.
If I'm still around, I will have made progress.
---
Which reminds me: I promised to leave a summary of the rest of the trilogy – so you know what happens – where it will be made available to anyone who started reading.
In case I don't make it.
---
To the lovely person who bought a paperback: thank you! Hope you leave a review.
Some people prefer paper.
I set my ebook and paperback prices so I make around $5 when someone buys either; it seems about right.
---
Love you all. Drop by and tell me you're okay.
Alicia
---