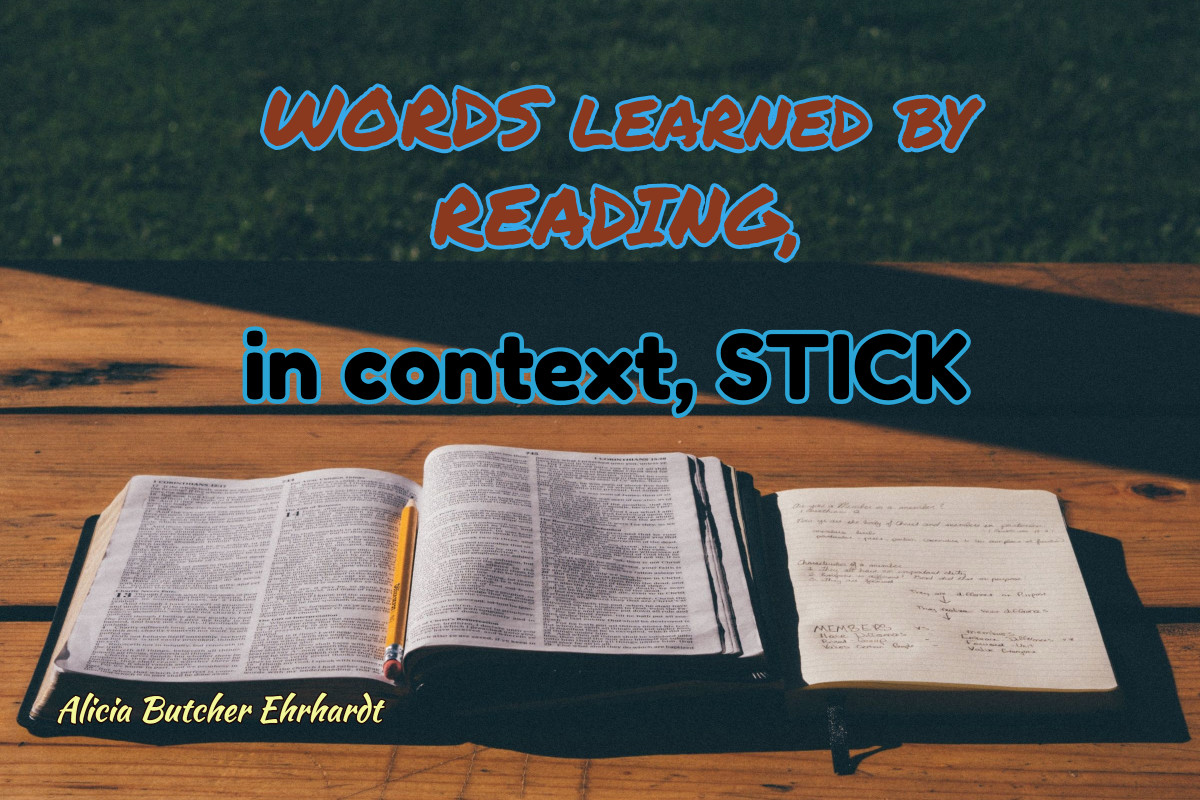 STUCK WITH THEIR HEAD IN A BOOK
That's where the young readers are, when they can get away with it. I was.
I kept books in three locations in our house in Mexico City, and snuck around so my mother wouldn't find me and want me to do something – but I always had a book. In English. Of what was around the house, including my parents' collection of the Great Books (only the half I liked) plus the James Bond novels and such my father brought home from business trips..
It is like an addiction, pouring words into your head.
Many people learn the pleasure of reading later – and do perfectly fine with it. But there is a subset of humans who are bookworms from a young age, and once they discover the printed word, can't get enough of it.
My readers tend to be in that group.
Figuring out words in context is a big part of that
If you read material that is probably too hard for you, you're going to run into words you've never seen before. That's when the vocabulary starts to build: you don't understand the sentence a word is in until you have some tentative meaning for the word, so you guess, store it away as a 'possible,' and move on with the story.
Do this enough times, and that word will get its meaning altered a tiny bit each time you run into it, because each place you see it will give it context, and eventually most words will have a complex meaning that settles pretty close to what you'd find in a dictionary.
Or you could ask someone (mom, teacher…) or look it up, and nowadays touch it on your Kindle and have the meaning pop up, but all those things take more time and interrupt the flow of the story, so many of us reserved that for rare occasions, and just kept reading.
The literary mainstream novel
English is an incredibly rich language (we steal anything we don't have, and, voilà, it's English now), and I can find the perfect word for most applications – with the nuances I'm looking for.
My readers don't need anything explained: they either know it already, or they will be fine figuring it out in context.
Mind you, I'm not looking for the truly 'literary' one-of-a-kind only an English professor would know them words.
Just the words that I've acquired from all those books I've read – without paying specific attention.
The only 'class' I've ever taken in 'English' was the Freshman English course I took when I transferred as a junior from UNAM in Mexico City to Seattle U., which it turned out later I didn't need to take.
That class also got me to write the only term paper I ever wrote, something wild about the psychological significance of Wuthering Heights, and for which I immersed myself in the literary criticism journals at the SU library, which had articles such as 'The Window Motif in …'
I had fun, I got an A+, and never before or since was exposed to language that way.
I am not a literary writer; I'd have to have an entirely different background for that, and it wasn't my path as a physicist. At this stuff, I'm an autodidact. They're at an entirely different level.
Pride's Children is just where it all came to roost.
They said, "Write the novel you want to read, and can't find."
'They' were right. It has been great fun just letting a novel be what I wanted it to be, and using everything stored in my very odd and now damaged brain exactly the way I want to.
And my readers like it!
That's such a charge.
Here are some of those words from Chapter 27 of Pride's Children NETHERWORLD, which I just finished writing, and am now polishing up to send to Rachel, my wonderful – and omnivorously trained like me – beta reader. AutoCrit, my editing assistant software, flagged them as 'uncommon in general fiction.'
interlocutress
verandah
malevolence
illusory
epigraphs
attribution
obeisance
dopamine
quintessence
scrupulous
galvanized
volition
tableau
pragmatist
modus operandi
bafflegab
choreographed
Janus
excoriated
impeccable
preternatural
demotion
demonstrably
asunder
pique
bawdy
Uttar Pradesh
pachyderm
impunity
wafting
Not really that tricky, are they?
But you don't hear them much, and they like to get some attention, too.
---
Thanks again to Stencil, which allows me to create graphics with very little effort – and wonderful photos. When I need more than a few a month, I will definitely get their paying version. Meanwhile, I mention them here every once in a while, in case others need the same capacity.
---